Contour Line Quiz
Contour Map Quiz
Match the contour line drawing in the PHOTO column with the corresponding contour line image in the TOPO column. See the bottom of the page for answers to contour map quiz.
Hint #1: The Arrow in the TOPO images point downhill.
Hint #2: Don't get frustrated with the answers. A couple are very similar.
Answers will be shown here.
The contour map below uses a 1:4,800 scale. Notice the shaded relief to improve the map. Using what you've learned about contour lines and topographic maps, figure out which photo goes with the map.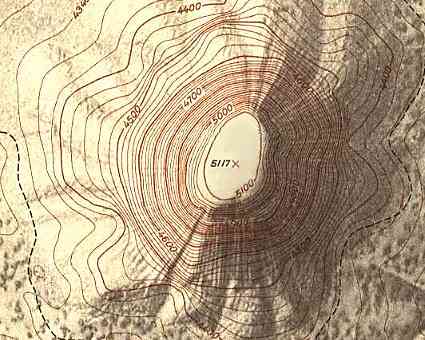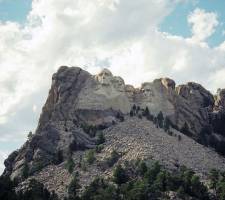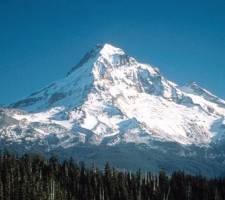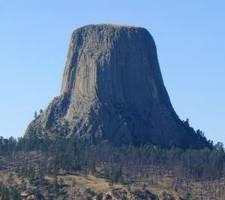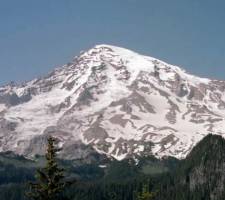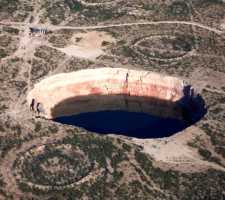 Answer will be shown here.

What do you get when you cross a cowboy and a mapmaker?

A cow-tographer!
A
B
C
D
E
F
G
H
I
J
K
L
M
3 - gradual, consistent slope
5 (or 8) - draw or valley with stream
13 (or 4) - cliff face
12 - hill with ridge
9 - spurs on a mountainside
10 - a depression
4 (or 13)
7 - Steeper slope high, gradual low
1 - consistent slope
2 - gradual slope high, steeper low
11 - a saddle between two hills
8 (or 5)
6 - simple round hill
The contour lines are very close together, indicating an extremely steep slope that rises from 4500 feet to 5100 feet - that is about 2 football fields standing on end.
A perfect bulls-eye shape is created, indicating a circular mountain.
The open center circle inside the 5100 contour line indicates that the top of the mountain is a flat plateau.

This topgraphic map is of Devil's Tower which is the photo in the lower left.
---
Comments:
Oct 16, 2015 - Amy Leslie
On behalf of the Boy Scouts of America (BSA), I am expressing interest in using the contour quiz graphics in our new edition of the Boy Scouts Handbook.

We are working with subject experts and BSA volunteers to include the most relevant, interesting information and visuals available to increase a Scout's engagement with this important skill. It is within this context the BSA would like to include your quiz graphics in our new edition of the handbook.

Thank you in advance for granting this permission. I am available to answer any questions you may have. If you are not authorized to grant any or all of these rights, I would appreciate your referral to the correct person in your organization.

Regards,

Amy Leslie
Boy Scouts of America
1325 West Walnut Hill Lane
Irving, Texas 75038
---
---
Ask a Question
Bike
---


More Map and Compass Resources at CompassDude.com