Compass Declination
Man, you thought latitude and longitude was rough, just check out this declination stuff!
I'm sorry to be the one to tell you that your compass doesn't work quite right. It doesn't really point to the north pole or the south pole.
Not only that, next year it will point someplace different than it does this year! And, someday it may be completely backwards!
Two North Poles
There are actually two north poles - the
Geographic
north pole which is the axis around which the earth spins, and the
Magnetic
north pole which is where compass needles point.
Why are there two different poles? Good question!
The magnetic north and south poles are the ends of the magnetic field around the earth. The magnetic field is created by magnetic elements in the earth's fluid outer core and this molten rock does not align perfectly with the axis around which the earth spins.
There are actually many different sources of magnetic activity around and in the world. All those influencing factors combine to create the north and south attractions at each spot on the globe. The actual strength and direction of 'north' is slightly different everywhere, but it is generally towards the 'top' of the planet.
Magnetic Declination
The difference between the north geographic pole and the north magnetic pole is called
magnetic declination
or usually just declination.
Depending on where you are on the earth, the angle of declination will be different - from some locations, the geographic and magnetic poles are aligned so declination is minimal, but from other spots, the angle between the two poles is pretty big.
Here is a map of the angles of declination for the U.S. as of 2010: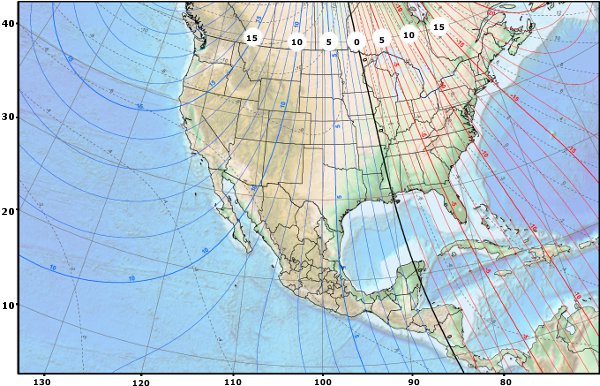 (click for large image)
Notice the black line with 0° on it running down the Mississippi river? Along this particular line, both the geographic and magnetic north poles are in alignment so there is no declination. If you move East of this line, the magnetic north pole will pull your compass needle further and further to the West of geographic north - the angle of compass declination is West Declination. Moving west of the Mississippi river will pull your compass needle further and further to the East.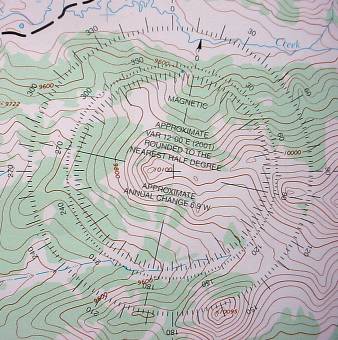 This makes it a bit more challenging to find your way because your compass tells you North is a different direction, depending on where you are. Topographic maps used for navigating should have the declination printed on them like this example. This declination is for an area in the Bighorn Mountains in Wyoming where the declination is 12 degrees East in 2001, when the map was made.
(Click the image for a bigger version)

It also says that the declination is changing 6.9 minutes West each year. Using this old map, the declination would be about 11 degrees East in 2010 - about 1 degree less than the map has printed.
Unfortunately, the rate of declination change changes over time. When the map was printed, the rate of change was 6.9 minutes West each year. But, it has now sped up to 9 minutes West each year. This has been changing every year since the map was printed so the current declination for this area is 10 degrees 41 minutes East. That is already a larger change than what we would expect for 2010, based on the map's information.
Does it make good sense to use a map's declination information if that map is more than a couple years old? NO, you should use recently published maps or know the current declination for the area and use that information for your navigation.
There are a few ways to solve this extra challenge of finding true north - either changing your compass or using math in your head.
Adjust Your Compass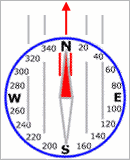 On many compasses, you are able to adjust the declination by twisting a ring, using a screw, or some other method of changing where the
orienting arrow
sits in relation to the ring.
If you used a compass set with 0 degrees declination in Wyoming where the declination is 12 degrees East, the compass would tell you that you're heading North when you're actually heading 12 degrees East of North.
You'd quickly wind up off course and lost.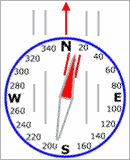 By adjusting the compass to match the declination on our map, the orienting arrow now appears to be offcenter from North, which is how it should be.
Now, when you put RED in the SHED (needle inside orienting arrow), the North indicated at the index pointer is true north and matches your map.
You can continue to check your location and chart your course correctly.
Whenever you stop and check your heading or take a bearing on a distant object, the degrees read on the dial will be the actual true degrees. The only thing that looks a bit odd is that the north end of the compass needle does not point directly at the N when you are heading due North.
Using Your Head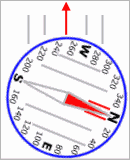 If you have a compass with no declination adjustment or you just like math, then you can do the declination calculations in your head.
If you are in Wyoming with a 12 degree East declination, add 12 degrees to the heading you read on your compass dial to determine your true heading.
In this example, the reading is 250 degrees.
But, you are actually facing 262 degrees.
So, to actually head 250 degrees, you need to get a reading of 238 degrees and then you're heading the right way.
Inclination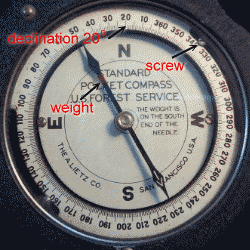 Inclination is the angle of pull down toward the earth that the magnetic field exerts on a compass needle. At the north magnetic pole, the north end of the needle is pulled straight down toward earth.
Using your brilliant mind, you probably figured that a compass doesn't do much good if it is pointing straight down. And, actually, for hundreds of miles around the magnetic poles, compasses are worthless. For even more hundreds of miles around that, compasses can be erratic.
So, if you are planning an arctic or antarctic expedition, don't count on your Silva or Brunton for getting you there and back.
Not only that, but there are southern hemisphere and northern hemisphere compasses.
I have an old Forest Service compass that you can see here. It has a weight on the southern end to offset the inclination pull in the northern hemisphere. If this compass is taken to the southern hemisphere, the weight would cause it to drag and not balance properly.
You might also notice the two declination adjustment screws and the fact that it is currently set for about 20 degrees East declination. And, you should note that this is not a good compass for mountaineering for many reasons.




The Drifting Poles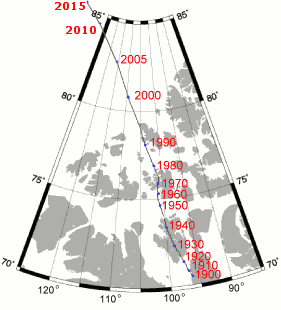 Back to the magnetic north and south poles - remember I said they were caused by the earth's molten outer core? Well, things are always shifting and churning down there. So, as the liquid rock moves, so does the magnetic field.
This map shows how the north magnetic pole has shifted over the past century. Notice that it has picked up speed and has moved more in the last 15 years than in the 50 years before that, now moving about 25 miles per year on its way out of Canada and heading to Russia.
So, how does this effect compass use and navigation? Well, if you follow your compass north this year, you will be drawn towards a different place than 15 years ago. Declinations are constantly changing and that means what is written on a map you buy this year will be incorrect next year. The difference depends on where the north pole moves to and what your current declination is.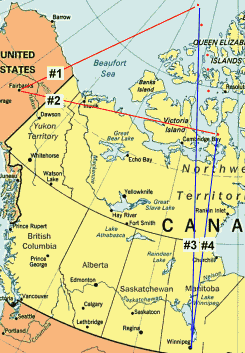 For example, if you pointed north from Fairbanks, Alaska in 2006, you would follow Line #1.
100 years ago, you would have followed Line #2 - huge difference!
From other places, such as Winnipeg, Manitoba, Line #3 in 2006 and Line #4 100 years ago are nearly the same.
It's interesting to compute the declination for your location.
This will pop up a new window.
In the new window, enter your Zip Code and click the "Get Location" button. Then, click the [Calculate] button to find the declination for today, or enter any date and find out how the declination will change over time.
These moving magnetic poles continually effect navigation. It's more serious for airplanes and ships, but even for hikers and backpackers, it causes problems. Using a 10 or 15 year old map is a bad idea since the declinations are no longer accurate.
If the north pole movement continues at its present speed, it moves 250 miles every 10 years, but it has been speeding up so no one knows what the next 10 or 20 years hold in store. Historically, the magnetic field of the earth has churned over and reversed and some scientists say we are well overdue for such a reversal.
See current and historic declination for the whole world - notice the south magnetic pole

Why didn't True North marry Magnetic North?

She didn't like his bearing and he was just a drifter.
---
Comments:
Dec 15, 2015 - Annie
How would you take a bearing or heading if you were between the magnetic north and true north? Just wondering.
---
Dec 17, 2015 - Jerry Avins
Answer to Annie: Shifting from true to magnetic is just a change of reference, It doesn't change just because the bearing you want is between the two. U.S army maps also have Grid North, because the grids printed on them aren't always aligned with true north. Does anyone know why?
---
Dec 17, 2015 - Compass Dude
@Annie - There are some locations on earth where the magnetic pull is so far off that using a compass is not practical. If you were so far north that you were between the magnetic pole and geographic pole, your compass would still point to the magnetic pole. It would also be pulled down toward the ground and most likely not give any useful direction.
In that part of the earth, using a GPS or monitoring sun movement would be more useful than a compass.
---
Jan 19, 2016 - Kelly Smith
You made the following statement, "So, to actually head 250 degrees, you need to get a reading of 238 degrees and then you're heading the right way."

I think this is incorrect. If you subtract 12° from 238, you would get 226.
---
Jan 30, 2016 - Compass Dude
@Kelly - What is written is correct. If you wanted to head 238 degrees, then you would subtract 12. The example says you want to head 250 degrees, so you would subtract 12 to get 238.
---
Feb 17, 2016 - Michael cruse
Very interesting to say the least I quit using a very expensive telescope around 1999 because I couldn't find true north but what's really true if you Google does the poles shift every thirty thousand years you end up with conspiracy theories of all sorts between earthquakes tsunami impacts the moon who tells the truth I once read that when Krakatoa went off it released more pollution in earths atmosphere than there has been since mans been here if that's true then allot of conspiracy is a crock nirubu and the dwarf star in our solar system seems more feasible than ever what else could really move 6.6sextillion tons so fast but then my learning processes in school where filled with all sorts of lies only later on in life did I find truths like for example Christopher Columbus discovering America a lie like Santa but really who knows the truth its really hard to aqire truth in this matter as to why its happening or its true source
---
Feb 21, 2016 - Dan
Hi there Compassdude,

In regards to declination - does that mean that when orientating a map (finding north in relation to your position on the map) that we should use the magnetic declination reading as our North point ? For example, I live in New Zealand and we have a general declination of 20 degrees east. Does that mean that when I orientate the map, I make sure that the magnetic needle stays inside the orientating arrow which points to magnetic north and not use grid north?

Thank you for your time,

Dan
---
Mar 12, 2016 - Compass Dude
@Dan - Orienting a map is described on
this page
. You adjust your compass for declination before orienting.
If your compass does not have the ability to adjust, then lay it on the map in line with the grid lines and rotate the map until the north needle points to 340 degrees, which is 20 degrees west of North, matching your local declination. Then, map north and geographic north are oriented.
---
May 28, 2016 - Craig Woodford
Grid to map add, map to grid get rid.
---
Jul 01, 2016 - George Murphy
Are not grid and map the same thing? The "rule" I learned in the (British) army was: "grid to mag, add; mag to grid, get rid (I.e. subtract).
---
Jul 10, 2016 - Frank Minich
The way I learned it (in aviation) is: Can Dead Men Vote Twice At Elections
CDMVTAE
Compass Deviation Magnetic Variation True Add Easterly
When going to the right on the line, add Easterly, as:
When going from Compass heading to Magnetic heading, add Easterly deviation.
When going from Magnetic heading to True heading, add Easterly variation.
When going to the left on the line, add Westerly.
---
Aug 13, 2016 - Bret Lukezic
Great article, as a private pilot, we learned this using the "steam gauges" but now with advanced GPS tricked out for all Instrument approaches, all is compensated for anyway. It's almost like cheating...

---
Sep 12, 2016 - Cody Park Kenny
I need help doing a self survey with a compass and a transit instrument on my own property lines, pens are in and I have Longitude & Latitude. Please help
I am trying to figure out what degrees offset a compass for my area.
---
Sep 12, 2016 - Compass Dude
@Cody - See the "Get Declination" button in the page content above. Or, view the big PDF of the USA declinations.
---
Oct 03, 2016 - Pam J
Found a bearing on my compass with 12degree E set and again with zero declination and the degree difference was 5 degrees higher. Is this correct, or close?
---
Feb 28, 2017 - David
I am confused. Some News reads that the Magnetic north is moving south but your diagram clearly shows it moving North. Can you help me understand.
---
Mar 12, 2017 - Compass Dude
@David - The image above shows just a very short time. The pole wanders around over centuries and has drifted south and north. I don't know how accurate it is, but a 1300 year example image can be found at planetearth2017.files.wordpress.com/2012/05/figure-9-the- closer-to-the-magnetic-pole-the-colder-it-gets2.png
---
Dec 10, 2017 - Ernest Jones
A surveyor measured a line in 1972 as having a bearing of South 60 degrees east. The geographic position is N6.1884, W10.4832.
What would be the bearing of that line today ?
How do I calculate that?
---
Dec 10, 2017 - Compass Dude
@Ernest - You might try maps.ngdc.noaa.gov/viewers/historical_declination/
You can see the magnetic declination for a location and a given year. The new bearing would be changed by the difference in the declination between 1972 and 2017.
---
Dec 21, 2017 - Mulambia Peter
Help me.How can you calculate the true whole circle bearing when the magnetic declination is bigger than the whole circle bearing, eg magnetic declination is 12°w while magnetic WCB is 6°' .
---
Mar 21, 2018 - Mark Pfeiffer
Would a dip needle indicate the declination at a given spot?
---
Mar 21, 2018 - Compass Dude
@Mark - No, it measures the magnetic inclination, not declination.
---
Jul 07, 2018 - Capt. Tom
Why do you troopers complicate compass so much? Drop all that fancy terminology and remember this: wherever on Earth you are, find your position's compass deviation (from the map, internet etc.) Now, if it's to the left from where you're heading or a needle pointing - add it! If it's to the right - substruct it from where your heading to get TRUE NORTH.
On ease! Now soldiers, if you want to dig into the subject deeper, get Ph.D. from geology, astronomy, meteorology, cartography, history of Earth, polar reversals, magnetism and most important - a little common sense and imagination.
---
Oct 05, 2018 - Rudy B
I don't understand the need to adjust my compass for declination. I simply orient my map to magnetic north by using the declination diagram and then any bearings I measure from the map are automatically magnetic bearings. I do take the time to learn the current declination for my area and I compare this to the map's declination diagram to ensure that they are close. Since my off-trail hikes are usually under 3 miles I feel that I have no need to adjust the compass, and I have not gotten myself lost yet.
---
Jan 16, 2019 - Landon
Great post! The history of the magnetic north location and how it has been changing is very interesting. It will be exciting to see what the next 20 years brings! Thanks for the good info dude!
---
Mar 13, 2019 - Gman
Great posts Compas Dude. In SAR training it was LARS
If to the left add, if to he right subtract. Ex: if in NH your
declination is ~14 degrees, so after adjustment your red
indicator should be on 14 degrees. Carry on.
---
Mar 31, 2019 - UpNorth
Good article. Maps have grid north as well as true north. Wouldn't you set the compass to declination -/+ convergence if you use the grid system, like UTM? Or, is it too little of a difference to worry about?
---
Jul 03, 2019 - Dale
I believe that you can sight Polaris then adjust the orienting reference to the needle to the compass needle to correct for declination anywhere/anytime, without using google or current maps.
I've never seen a reference to this method but it makes sense. Polaris is true north and varies less than 1 degree. What do you think?
---
Jul 03, 2019 - Compass Dude
@Dale - Sure, that makes sense. But, it would be only a very rough estimate. I doubt you could manually line up with Polaris closer than 4 or 5 degrees, and that would be a significant navigation error.
It would be interesting to hear how it works, if you give it a try.
---
Jul 03, 2019 - Dale H
It looks more accurate for my location than the 11 deg east noaa recommends for nw New Mexico. I use a Swiss recta officers model with adjustable declination and inclinometer, mirror reading and gun site aiming, 2 deg graduation. Polaris declination is about 3 deg. ??? Now I'm wondering perhaps some manufacturing error. If adjust to 11 degree it is noticeably different than Polaris.
---
Jul 17, 2019 - Matt
I just want to make sure I got this right. I will be in Wyoming using a map to travel off trail. If I find my heading on the map of 250 I sould set my compass to 238 and follow it. Is that correct?
---
Jul 17, 2019 - Compass Dude
@Matt - If you can not adjust the declination of your compass, then you have to do the math. In Wyoming (assuming it is still 12 degrees East declination), when your compass says you are heading 238, you add 12 to that so you are actually heading 250. Good job!
---
Aug 07, 2019 - Gussuk
Hi
I just wanted to thank you for the great information. I have known about Declination for a long time as I took some flying lessons when I was young.
Several years ago I got a weather station and mounted it on my roof. My house is surrounded with trees so I can't see the street. I know from maps that the streets in Anchorage are oriented N/S but my house is not sitting on the lot N/S. So a few years ago I bought a compass. It always pointed to me anyway too far to the right NNE. I suspected it was the Declination but never knew how far it was. your link to NOAA has a calculator and with my coordinates it's 15.5 degrees East. So I got out the compass and that is just about how far off I figured the compass was. It does have a turning ring so it is now set and I know the answer to a long time question.
Thanks

---
Aug 31, 2019 - jack togati
Hi !
Great work and information both from you and the numerous individuals commenting here ! Thank You all for the education !
Just one question on the compass pointing down the closer one gets to the magnetic North pole. Are models currently produced that offset the center axis pitch dependent upon what pole one may find themselves at ? In short do i need a "North Pole " and a "South pole" compass or can i make due with one ? Thanks in advance for you response. Much appreciated !
---
Sep 02, 2019 - Compass Dude
@jack - Yes, compasses are made for either northern or southern zones with one needle end weighted. Or, some companies have globally balanced needles (which are much more expensive) to work anywhere.
---
Sep 19, 2019 - Tanner Smith
So according to the USGS if the arrow is to the right you subtract the magnetic north value while off to the right you add. My declination is 16.3 East. The arrow is off to the right so you would subtract. But the post above says to add?? Am I missing something
---
Oct 31, 2019 - Nkereuwem
it is really interesting to have the update, that a map produced 10 years ago is not accurate except the declination angle is adjusted.
east is positive and so you have to subtract the declination to be in North direction, if west you have to add the declination to be on course, that is how i understand it.
---
Nov 16, 2019 - Bruce
If the declination on the map is 15 degrees W... I measure from point A to point B with north arrow aligned with true north on the map. So say that measurement was 240 would I then turn the dial 15* West? So now I actually go 225. I would line up magnetic north inside adjusted arrow and now when I point the compass I'm going 225 but the arrow is offcenter? If you got a compass with adjustable declination the magnetic north would appear to be true north?
---
Nov 16, 2019 - Compass Dude
@Bruce - In an area with a 15 degree WEST declination, your compass would show you pointing North (0 degrees or 360 degrees, same thing) when you are actually pointing 345 degrees.
If you followed a 240 degree heading indicated on your compass, you would actually be heading 225 degrees. To compensate, you should follow a heading of 255 degrees indicated on your compass to actually head 240 degrees.
---
Jan 11, 2020 - Alphan
Where there is an annual increase of 7' but doesn't indicate whether its to east or west, what are we doing, accepting it as positive (+)7, meaning to the East? I got nautical charts of NOAA, it seems they don't show this.
---
Jan 11, 2020 - Compass Dude
@Alphan - If I had no other information, I would make the guess that it meant magnetic north was drifting to the East, as you said.
---
Mar 11, 2020 - Chris
How would you navigate by compass if you did not have a way to the declination of your area? ie: no internet.
---
Mar 11, 2020 - Compass Dude
@Chris - In that case, the best you could do is use the readings directly off the compass.
As you can see on the USA map above, if you know roughly where you are and know that declination gets worse the farther you are from the Mississippi River, you can adjust your reading a bit.
But, I would have no idea what the declination was if I was dropped off in the wilderness of Mongolia for example. I'd just use my compass to "get close".
---
Apr 01, 2020 - David
@Chris -- If you have a good map, but no way to lookup the current mag. declination for the area.

You can always find some land feature that runs straight a fair distance. A road, power line, edge of a large field, etc. Measure the bearing on the map as if intending to walk in that direction.

Then measure the same bearing with the compass. The difference in degrees, between map bearing & compass measured bearing. Would be the mag. declination. At least as accurately as you can read it. [many compasses are only accurate to about 2.5Ëš, some higher end compasses to 1Ëš or 0.5Ëš, but with a resolution of only 2Ëš]

Example: If on the map a road runs to the NE at 45Ëš, but with the compass the road bearing (azimuth) is 55Ëš, your mag. declination would be 10Ëš West. If the compass shows the road runs straight on a heading of 38Ëš, then your local mag. declination is 7Ëš East.

You can determine your local mag. declination yourself as accurately as needed for recreational navigation.

---
Apr 01, 2020 - David
The easiest way to correct a map measured bearing to the correct bearing to be set on the compass, to account for magnetic declination. Just remember:

If mag. declination is West, turn the compass degree dial CCW.
If mag. declination is East, turn the compass degree dial, CW. Examples: If 8Ëš West, turn the dial 8Ëš CCW. IF 12Ëš East, turn the dial 12Ëš CW.

I created an acronym and phrase to help me remember the correct adjustment:
WAvES - [West Add v East Subtract].
The "v" symbolizes the mag. declination diagram.

The phrase:
"The Map WAvES to the Compass, and the Compass WAvES back(wards) to the Map".

Meaning - when you take a compass measured bearing back to the map, to get the correct bearing to use on the map. You do the math backwards. West add becomes west subtract. East subtract, becomes east add.

For mag. decl. = 9Ëšwest. If the compass azimuth = 279Ëš. On the map you would use a bearing of 270Ëš. That's why west mag.declination is given as X negative degrees online.
---
Oct 25, 2020 - William Bryan
I need help calculating a compass bearing based on this text from a surveyor's plat legal description dated December 1976: "S.63 deg.43 min. East." Plat is located in Highlands, NC 28741; zip-code lookup shows present declination -6 deg. 15'. (Declination will have changed since 1976.) Said bearing is the line between my property and USFS land, and luckily both ends are marked with USFS corner markers (kinda like benchmarks, only no elevation given). Line is 850' long thru tangle of mountain laurel and rhododendron, tough terrain, and I want to get it right the first time! I just want to paint-blaze the approximate line on my 4.25 acre property. Called a surveyor, who wants $1500 just to come and mark the corners, and I already know where they are! I'll have a helper and two compasses, an old Silva type 60 optical, and a Suunto MC-2 Global. CAN YOU TELL ME WHAT BEARING TO SET ON MY COMPASS, considering present declination factors and all? If you can't, maybe you can refer me onward?
---
Oct 25, 2020 - Compass Dude
@William - More data is needed, and too complicated to explain how you'd need to know the start point, end point, past declination and current, ...
So, if it was me, I'd just use a free mapping app on my cellphone, go to the first marker and save a GPS waypoint on my phone, go to the next marker and repeat. Then, have the app show a line between the two markers. As I walked back to the first marker, keep the dot indicating me right on the line and mark the boundary as I went to get the approximate line.
---
Oct 27, 2020 - William Bryan
Thanks, compass dude ... tell me what mapping app you think will be good for this job . My phone isn't the latest, it's an i6 ...
---
---
Ask a Question
---


More Map and Compass Resources at CompassDude.com