Orienting a Map
A map represents the real world. By orienting a map, you are positioning it so its North is actually pointing north. When you orient a map and know where you are on the map, you can look in a certain direction and see a real landmark and find it on the map.
Orienting, or aligning, the map is really easy with just 3 steps:
Lay your map out on a relatively flat, smooth surface.
Turn your declination-adjusted compass dial so due North is at the index pointer.
Place your compass on your map with the edge of the baseplate parallel to the north-south meridians on the map. Notice the orienteering lines and direction-of-travel arrow are all parallel with the map lines.
Turn the map and compass together until the compass needle is "boxed" in the orienting arrow (Red in the Shed).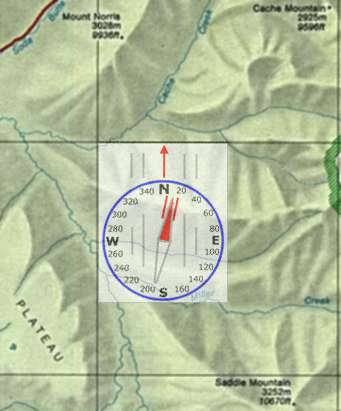 Now, the map is oriented to the real world. If you know where you are on the map, you should be able to look in any direction and see the objects represented on the map in the same direction.
If you know where you are on your map, you can also orient your map by distant features. If you can see a known mountain in one direction and a lake off another way, then just lay the map out and turn it so the corresponding marks on the map align with the distant features.

Answer from previous page: Denmark, India, Germany.
---

What is the most important thing to bring with you in case you get lost?

A deck of cards - as soon as you start playing solitaire, someone will find you and say "black six on red seven!"
---
Comments:
Aug 22, 2016 - Diego
Thankyou I finally understand what that means
---
Oct 26, 2017 - Avery Steak
Now I know what it is used for thanks for the site
---
---
Ask a Question
---


More Map and Compass Resources at CompassDude.com