What Is a Compass?
Parts of a Compass
There are many types of compasses ranging from tiny thumb compasses to complex high-tech gadgets. For most hikers and outdoors guys like us, an orienteering compass works just great and that is what we'll discuss here.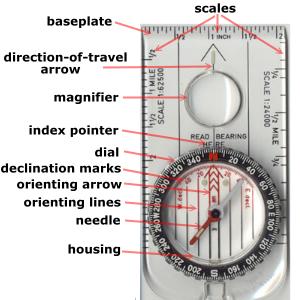 Not all compasses include each of these parts and some compasses include even more.
Baseplate
hard, flat surface on which the rest of the compass is mounted. It has a rulers on its edges for measuring distances on maps. It's edge is straight and useful for laying lines on a map
Scales
each edge of a compass may have different rulers for use with different map scales
Direction-of-Travel Arrow
marked on the base plate. You point this the way you will be traveling
Magnifier
for seeing small map features better
Index Pointer
butt end of the direction-of-travel arrow. It ends right at the edge of the dial and is where you take degree readings
Dial
ring around the housing that has degree markings engraved. You hold the dial and rotate it to rotate the entire housing
Declination Marks
use to orient the compass in an area with known declination
Orienting Arrow
marked on the floor of the housing. It rotates with the housing when the dial is turned. You use it to orient a compass to a map
Orienting Lines
series of parallel lines marked on the floor of the housing and on the base plate
Needle
magnetized piece of metal that has one end painted red to indicate North. It sits on a fine point that is nearly frictionless so it rotates freely when the compass is held fairly level and steady
Housing
main part of the compass. It is a round plastic container filled with liquid and has the compass needle inside
Bubble
a bubble of air in the housing liquid is useful for making sure you are holding the compass fairly level
Mirror
lets you see the compass face and distant objects at the same time. Useful for emergency signaling
Sight
improves aiming your compass at distant objects
How a Compass Works
There is a huge magnetic field around the earth. It is huge, but it is not very strong. The magnetized needle in a compass is aligned with this magnetic field. As the image below shows, the composition of the earth acts as a huge bar magnet sitting upside down in the middle of the planet. Since its South end is at the north pole and its North end is at the south pole, the North end of a compass needle is pulled north.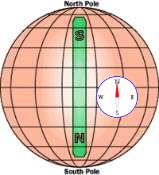 Your compass has to have a very light needle sitting on a pivot that has almost no friction. This is because the earth's magnetic field is weak and would not be able to turn the needle. You can even make your own compass just for fun.

The Tate's Compass company manufactured over 1 million compasses a year.
But, one day the red and white paint got mixed up so all their compasses pointed the wrong way.
The company went out of business and the well-known saying was created:

"He who has a Tate's is lost!"
---
Comments:
Nov 16, 2015 - Sabrina
I love to learn about compasses

---
Apr 12, 2016 - Gaurav Verma
Is it possible to get this guide as a pdf?
---
Apr 12, 2016 - Compass Dude
@Gaurav - No, this website is not available as a PDF file.
---
Jul 27, 2016 - alex macdonald
your website is awesome I learnt so much
---
Sep 22, 2016 - Bill Toney
Is the declination arrow and the orienting arrow the same thing?
---
Sep 22, 2016 - Compass Dude
@Bill - Yes, you can adjust the orienting arrow for declination. See
Declination page
.
---
May 25, 2017 - ignacio pou
This website is awesome.
I have learn a lot about compasses.
A thousands of thanks.
---
Sep 08, 2017 - Ralph G. Swanson
Did I understand correctly? South of the equator, the red painted end of a compass needle points to the South Pole? If so are Scouts in Australia taught to orient everything and read maps based on everything pointing south?
---
Sep 17, 2017 - Compass Dude
@Ralph - No, the red end always points to magnetic north, wherever you are.
---
Jan 29, 2018 - shin ri kim
i really understand now the part of compass and i know how to use it

---
Mar 17, 2020 - Festus
Hello, thanks for the page. I have a question please: Must the 360 dial and the orienting arrow be at the index pointer as in the picture above before any measurements with the compass?
---
Mar 19, 2020 - Compass Dude
@Festus - No, the dial turns the housing which includes the orienting arrow depending on declination. Then, bearings are taken by putting "red in the shed".
You might read the Orienting Map and Compass Use pages.
---
Jun 29, 2021 - the other compass dude
Hey Dude,
Do you know anyone who can get a 1917 Verner's pattern Mark VIII compass card that is in good condition? Mother of pearl would be wonderful but aluminum will work also. I have fully restored the Mark 8 except for the ratty old card, well it is 104 years old but it looks ratty next to brass so shiny you can see your face in. Any help would really be appreciated.
Thanks.
---
---
Ask a Question
---


More Map and Compass Resources at CompassDude.com